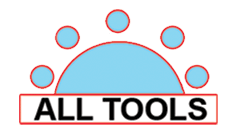 ALL TOOLS INDUSTRIAL SALES AND SERVICES is one of the marketing intermediaries of various industrial, mechanical, electrical, construction and safety products for a wide range of industry in the Philippines.
We are driven by a team of highly dedicated and customer oriented professionals, and through the congregated efforts and the strength of our integrated operations we commit to provide excellent products and quality services at a very competitive level.
PRINCIPLES OF ALL TOOLS INDUSTRIAL SALES & SERVICES
To ensure an effective way of obtaining Customer Satisfaction Guarantee, we provide a range of methodologies which include the establishment of a rigid quality control standard; building of indispensable valued partnership with the manufacturers and distributors of high quality industrial products and the employment of experts and skilled professionals who continuously undergo an intensive training. Through this, the company holds a competitive edge in terms of providing customers with solutions to all their needs, thus making their every purchase decision a truly smart investment.